Welcome to
Pathfinders


Design + Technology

Welcome to our website!

Our kits – designed by Derek Wulff – are made of natural, untreated wood, from Forest Stewardship Council (fsc) wood. We like to make innovative products that take time to make, work well, and look cool on the shelf. Yes, they are challenging, but without a challenge, where's the fun?

We hope you enjoy the kits we have to offer and welcome any questions you may have about them, or suggestions for new ones. (Our Leonardo da Vinci line of kits was in response to a request from the National Gallery in London, England, and our Robotic Arm design was in response to a suggestion at a Science Venture camp meeting at the University of Victoria!)

Scroll down and learn about our kits getting picked for a gift guide!
Our Newest Kits!
Leonardo Mini Kits
The latest addition to our Leonardo Line of kits is a series of laser-cut mini kits. Smaller than our main Leonardo kits (hence the word "mini"),  these kits are smaller versions of our award-winning main line of da Vinci kits. Easier to make – in about 1/2 an hour they look great on the shelf and also work!
There are 6 for now and a Trebuchet will be arriving soon!
There are 3 hurling kits, the Bombard, Catapult and Crossbow, and three of Leonardo's most iconic designs, the Aerial Screw, Bicycle and Ornithopter.
Made of mdf with a wood grained paper covering, they snap together easily and hold together nicely with a drop of glue in the right spot (glue included!).
They are fun to make, really work, and look great on the shelf!
Ask your local hobby shop or toy or museum store to get some today!
Leonardo's Siege Engines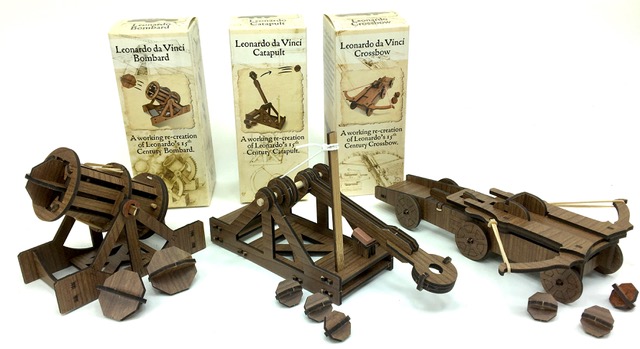 Leonardo's most iconic inventions
A new addition to the Ancient Siege Engines Line – a Battering Ram!
A battering ram was was a formidible weapon, used to knock down walls and splinter the gates of fortresses, castles and villages throughout the Middle East for over 1000 years. Originally invented by the ancient Assyrians around 900 years BCE, it was widely used by the Greeks and Romans durigng sieges from Ancient to Medieval Times.
This new kit makes an authentic Battering Ram – so you can lay siege to small castles around the house, and remind you of a day when you could strike fear into the heart of entire villages with a swinging log in a moving house!
Like all of our kits it is made of natural wood and plywood from sustainable sources, and the pieces are pegged – which is really fun (when you make one – you'll see!)
This rounds out our Ancient Siege Engine Line with a great looking robust kit that will look great and really works!
Two Pathfinders 

Kits

 on the Purdue University Research Institute for Pre-College Engineering 2020 Gift Guide!
Every Year Purdue University Inspire Research Institute for Pre-College Engineering picks the best  toys, games and books that they feel are great to engage kids ages 10 months to 18 years in engineering thinking and design.
This year they picked two of our products for the teen category  – the Sky Surfer – and the Gearbot Catapult. We are excited to have made the list and encourage you to get one and give it a try!  While both kits are age rated 14 and over they can be made by kids 8 and over (and launched with adult supervision).
 You can get the Sky Surfer from your favourite local toy store (see the Where To Buy page button at the top!) Of course they are on Amazon, but before you go there see if you can support a local toy store!
Anybody can make a toy, but we like to make kits that are both fun (and a little challenging to make) and have redeeming educational value once made. The Sky Surfer Airplane Launcher is a great kit for kids to learn about aerodynamics and do testing on planes they design and build – and it launches all kinds of planes so there is great opportunity  to learn about flight, aerodynamics and wing design.
The Gearbot is a Rube Goldberg inspired hydraulic catapult, with the ability to Launch a wide range of projectiles and learn about trajectory and power as well as levers and gears. A whimsical building kit with really fun moving parts, the Gearbot is definitely something that will help kids understand how levers, gears and simple machines work, and they get to hurl things – when has there ever been a downside to that!
Ours are two of a number of products they recognize as promoting engineering practices.
Sky Surfer – Part of Perdue University 2020 Inspire Engineering Gift Guide! 
Pathfinders, the world leaders in not-so-random hurling devices, has launched its latest kit – the over the top (of the shelf) Sky Surfer Airplane Launcher.
A fun building kit and then you are off to launch airplanes of all types! Included is paper and card stock, and some clay for balancing your new plane designs. There is also a detailed booklet about plane designs, aerodynamic theories, and the history of paper airplane (which you may find surprising!).
The worlds coolest airplane launcher, tested in science centers across this nation and with kids of all ages – has arrived! 
Great indoors or outside, this kit will launch planes from 10 to 50 feet – and more (especially if you are standing near a cliff, and the plane goes over…)
Make your STEM aerodynamics programs super cool and interesting with this easy to use launcher that makes science even more fun!